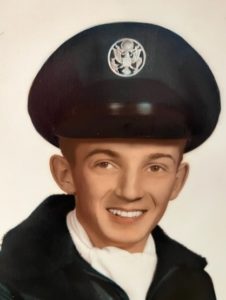 William "Bill" Alva Hallock passed away on August 3, 2022 at the age of 83.
He is survived in this life by his wife of 63 years, Elrose Marie Hallock, three of his adult children Alan (Linda), Victoria, Karla (Dr. Barry) Merriman. Seven grandchildren, eight great grandchildren as well as his sister Dixie and five brothers Dugan, Murphy, Robyn, Barry and Timmy, along with several nieces and nephews.
Bill was born and raised in Jamestown, North Dakota. He served his country in the US Air Force entering the National Guard at the age of 15. He was a proud and patriotic veteran, who maintained a lifelong, active involvement in the Legion and VFW. Bill was extremely intelligent, hard-working and fearless, which lead to a great many adventures that he would recount from his time in the service. Including being part of the combat engineering crew that built the DMZ in Korea, and air-engineer working aboard bombers operating out of Okinawa.
Returning home, he married another Jamestown native, Elrose Marie Spyers and he used his military engineering skills in civilian life to work on the first Boeing commercial jet engines, and on the wiring up the detonation systems for early Hydrogen Bomb experiments. He went on to have a successful engineering career, working to usher in the modern era of global communications — first building out major portions of the original phone line system across the Midwest in his own company. Before building international fiber-optics communication systems writing a patent as a senior engineer for 3M.
Throughout his life, Bill had a strong sense of family community service, participating as a volunteer leading local fire departments and emergency medical teams with Elrose joining in to support his teams with her cooking and cleaning. In later years Bill and Elrose retired to live again in Jamestown where they remained very active in the local community and all Vets Clubs.
Those who knew Bill will remember him as extremely intelligent, exceptionally engaging, a great story teller, very hard working, and with a strong independent streak. He was also devoted to his beloved wife of 63 years, and to their extended family, including grandchildren and great grandchildren.
In life, he worked to make our country safer, stronger, and better for all of us. In death, he will be missed. He will be reunited with his eldest daughter Teenia Maria and two of his brothers Anthony and Tony.
A memorial service will be held this Saturday, September 24, 2022 at Eddy Funeral Home from 2:30 PM to 4:00 PM with a luncheon to follow at the Jamestown Vets Club. All those who knew Bill are invited to attend and pay their last respects.
Eddy Funeral Home is in charge of arrangements.