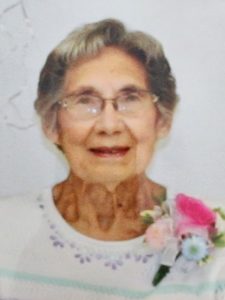 December 17, 1928, Betty Ilene Trapp was born, second daughter to Clarence and Susan Trapp.  She grew up on a farm 5 miles south of Marion, ND until 1942 when the family moved to Marion where Susan and Clarence began a career as bank clerks.
After high school, Betty attended nursing school.  She married Eugene Knudsen and they settled on a farm 2 miles east of Marion.  There they began raising their 4 children, Donald, Barbara, Dennis, and Judy.  Sadly, this changed when Eugene died in September 1955.  She continued to manage the farm and raise the family.
When the children were grown, she again pursued her nursing career.  Her first job was head nurse at the new nursing home in LaMoure.  She then married Sig Henrickson and moved to the Seattle area and then to Yuma, AZ.  She continued being a nurse in both of those communities.
Sig died in 1997.  Betty was back in Marion and in 2020, she moved into the nursing home in LaMoure, where she'd started her career.  Betty passed away there on November 18, 2022.
Betty was preceded in death by her husbands, Eugene Knudsen and Sig Henrickson; daughter, Judy Knudsen Hintz and granddaughter, Holly Jean Rohrbeck.
Still here to share her memory are her children, Donald (Patricia) Knudsen, Barbara (Jim) Goebel, and Dennis (Sandy) Knudsen; son-in-law, Kevin Hintz; 10 grandchildren; 22 great grandchildren; and 4 great great grandchildren.
The funeral service for Betty Knudsen Henrickson will be held at 2:00 PM, Monday, November 21, 2022, at the United Methodist Church in Marion, ND.  Visitation will be the hour prior to the service Monday afternoon at the church.  Burial will be in the spring at Lakeview Cemetery, Marion.  The service will be live streamed, then archived, on a link provided along with her obituary on her tribute page at www.lerudmathias.com.  An online guestbook is available there as well.