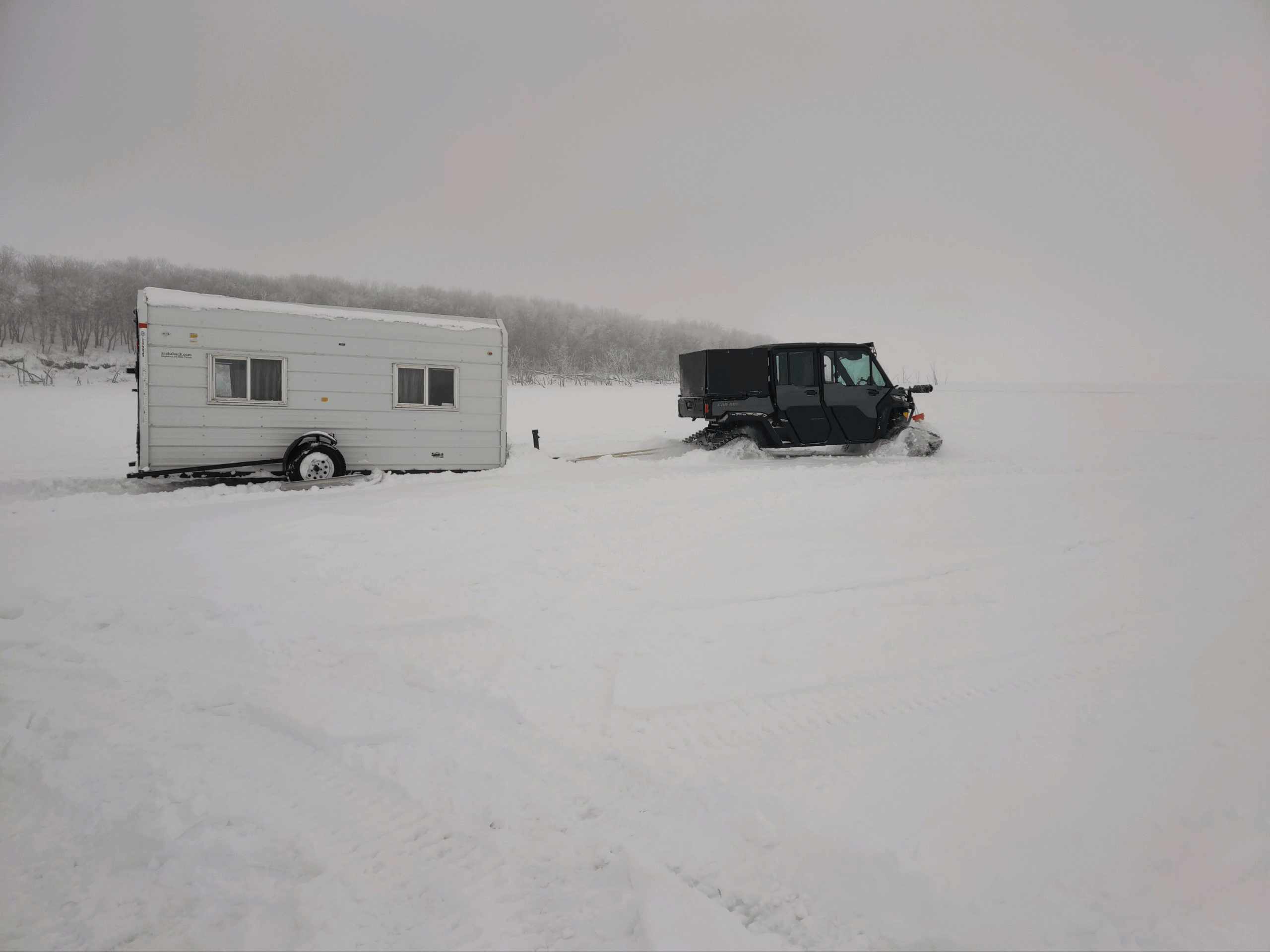 Larger permanent shacks are a tough pull with snow, slush and other challenging travel conditions on Devils Lake.  Anglers are advised to have tracked transportation and utilize lighter houses for easier access. DEO Photo by Mike Peluso.
By Mike Peluso
I'm happy to report my last fishing report didn't jinx the weather. We have had some remarkably good weather here up on Devils Lake. It's crazy to think that just a year ago up here we were setting blizzard records. My gut is telling me however that we are probably going to pay for this.

One interesting fact is the lower amount of traffic the lake is seeing due to the snow and slush. In fact, last weekend's run for groceries told the tale for me. I was surprised at the lack of trucks parked at the local hotels. Again, if you don't have tracks of some sort, don't even bother.

Of course our entire guide crew up here at Percheyes Guide Service all have Can-Ams with tracks and we are, for the most part, using flipover houses. We do have a hard shack or two out on walleye spots close to town, but those are dreadful to move. You also must be careful when you leave them. The slush slowly works up and it can create a problem.

As far as the fishing goes, over all it has been pretty darn good. We are having to choose if we are going to fish perch or if we are going to chase walleyes. With the conditions it makes it difficult to be successful trying to do both some days.  I'm still telling everyone to fish perch on the sunny days, and the walleyes on the overcast days for better results.
I have a couple openings in February if you are looking for an experience on Devils Lake this winter. We as guides are doing all the heavy lifting for you. It is definitely the way to go this winter that's for sure! I am also starting to fill up the spring river calendar, so if you are thinking of an early open water trip we should be able to find a date for you! Get ahold of me.
Mike Peluso is a Dakota Edge Outdoors contributing writer and a licensed ND fishing guide specializing in walleyes on the state's premier waters.