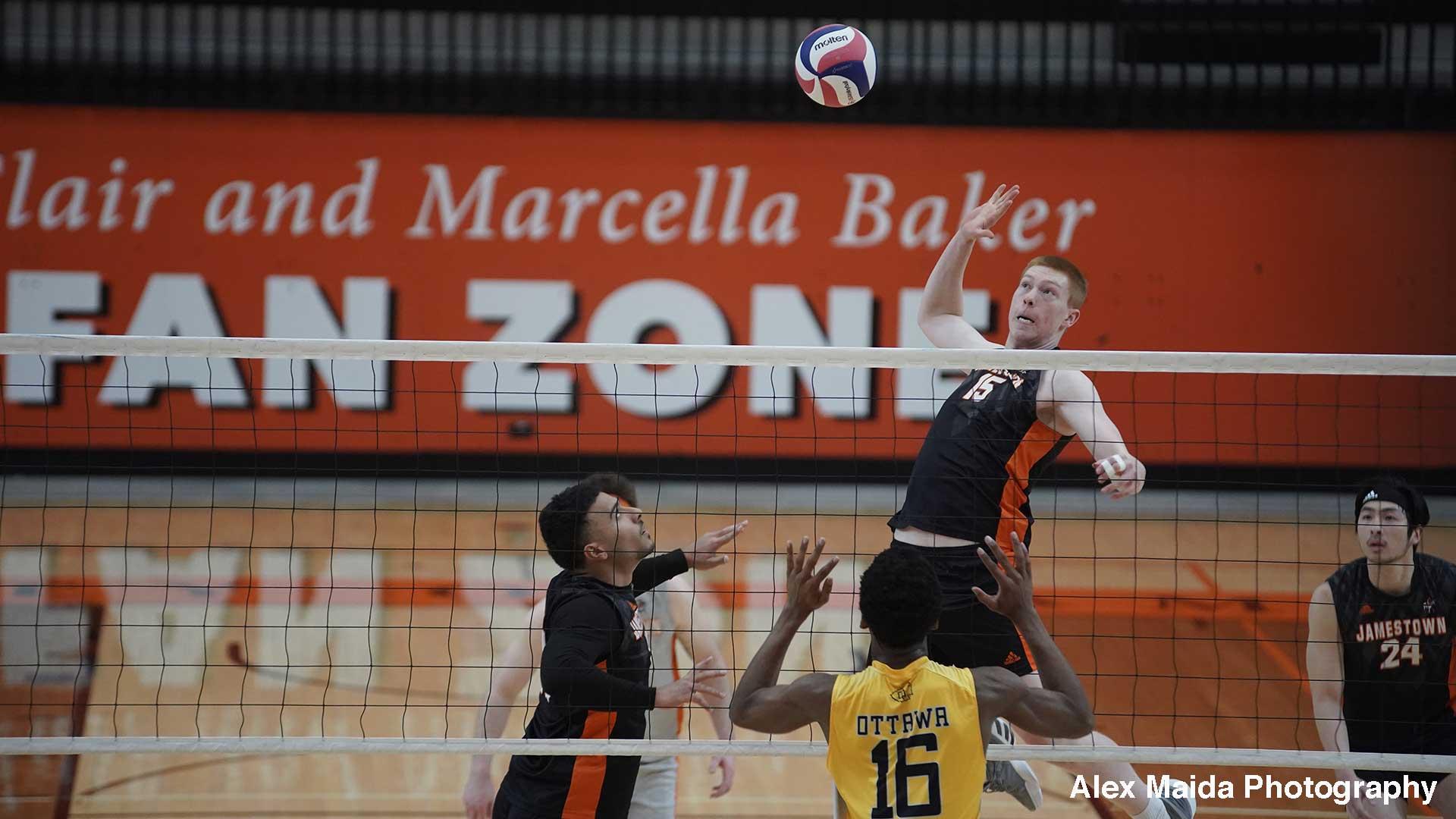 From Jimmie Athletics
JAMESTOWN, ND. (jimmiepride.com) – History was almost made for the wrong reasons Wednesday evening at Harold Newman Arena.
Now in its fourth season of competition, the Jimmie men's volleyball team entered Wednesday's match against Ottawa (Kan.) with a 27-0 record at Harold Newman Arena, 26 of those in sweeps. UJ had not lost a set at home until Dordt (Iowa) took the second and fourth set in a 3-2 win on February 3.
Ottawa took a 2-0 match lead against Jamestown before the Jimmies roared back to take the final three sets for a 21-25, 16-25, 25-23, 25-13, 15-11 victory over the Braves, extending their home winning streak to 28 matches.
UJ (17-3 overall, 7-1 GPAC) had leads of 17-11 and 19-12 in the first set before Ottawa (6-10, 3-5 GPAC) rallied behind the serving of Michal Bak, scoring eight straight points to go ahead 20-19. Jamestown would tie the score at 21-21 after a Tysen Myers kill, only to be forced into three straight attack errors to end the set.
The Jimmies never found consistency on offense in the second set and hit just .138 to Ottawa's .368. The Braves never trailed in the frame, allowing UJ to get no closer than 10-9. Four straight points and seven out of nine pushed the Ottawa advantage to 24-15, and a Jimmie service error provided the set point for the Braves and a 2-0 match lead.
Slowly but surely UJ built up momentum in the third set. After falling behind 8-6, Jamestown took three straight points and seven of the next eight for a 13-9 lead. Ottawa played from behind for most of the set but kept challenging the Jimmies, briefly taking a 21-20 lead after a 4-0 run. The teams traded points until Oguzhan Oguz registered his fourth kill of the set for a 25-23 win.
UJ hit .520 in the fourth set and made only two errors in cruising to a 25-13 match-tying win. Ottawa did not have back-to-back points at any time during the set, while the Jimmies repeatedly stacked points opening up a double-digit lead.
After opening up a 9-3 fifth-set advantage, Jamestown withstood an Ottawa rally that cut the lead to 12-9. The Braves made it interesting, getting as close as 13-11 before back-to-back Oguz kills completed the comeback.
Oguz posted 20 kills while Caylor Cox, Downey Huynh, and Ever Cancel all had 12 apiece. Cancel hit .625 to lead UJ, with only two errors on 16 attempts. Derek Correa passed out 54 assists, and on the defensive side Adam Lopata had 15 digs. Cancel had five block assists and Tysen Myers added four total blocks.
Jamestown is back in action Saturday at Morningside (Iowa) at 1 p.m.