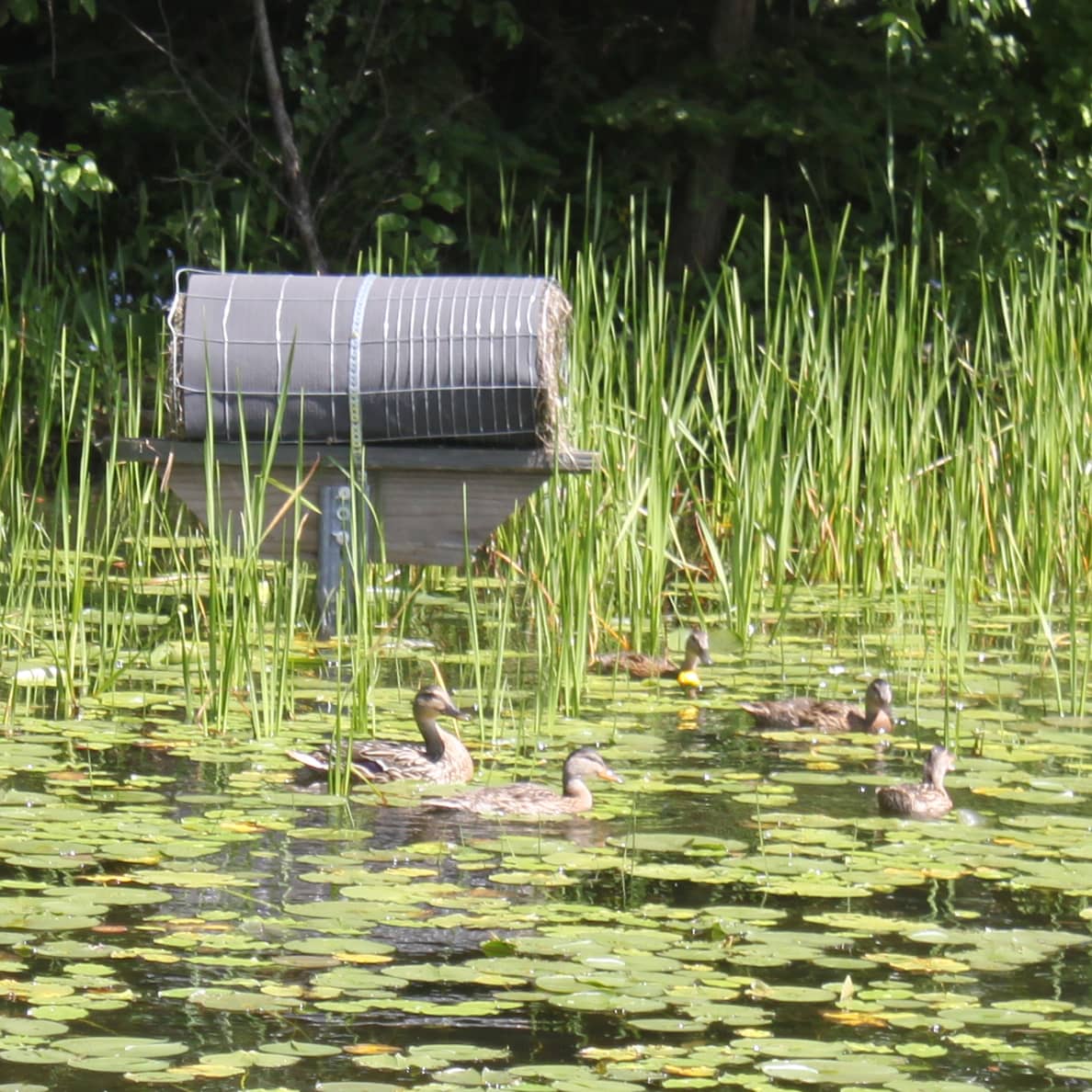 Ducks do well when wet spring conditions refill prairie potholes and spur vegetative growth around them, which should be the case when this winter's near-record snowfall amounts melt and fill sloughs. Simonson Photo
By Nick Simonson
With official snow totals eclipsing 80 inches, making for one of the snowiest years ever, and a shot at topping the 100-inch mark a reality before the end of the season, winter's challenges continue to mount for wildlife remaining in North Dakota. However, the state's returning migratory waterfowl populations will likely encounter excellent conditions throughout its prairie pothole region this spring as a result of all the winter accumulations and the resulting moisture which will recharge small sloughs.  According to William Palarski, Ducks Unlimited Conservation Programs Biologist, water levels are expected to be excellent for those mallards and other ducks returning to the region in a few weeks once the snow subsides.
"Given that it eventually melts it's going to bode really well. We're looking to see a lot of those smaller, temporary wetlands fill up, that's really attractive for breeding pairs of ducks coming back from the south and they're flying north through North Dakota and they see a really good looking piece of habitat and they come down and then hopefully nest here, so we'll be making a lot of ducks this spring and summer and hopefully they'll be here in the fall," Palarski states.
Coming into the winter of 2022-2023, many of the state's smaller, temporary wetlands had dried up, as is normal over the course of the drier months in late summer, with limited rainfall in July and August last year.  This, however, isn't necessarily a bad thing for ducks and the quality of those wetlands this spring, perhaps only for the hunters who were looking for a place to set up their decoys once the hunting season began.
"This fall was really dry, a lot of those really dried up.  It's not necessarily a bad thing in terms of wetlands but it can be kind of a bummer if you were coming out here hunting.  Maybe your favorite slough was dried up last year when you came out here, but those wetlands they need a little bit of a recharge and it's pretty natural for them to go through a dry period.  A lot of them were dry, but come this winter they recharge a lot of those nutrients that they need by being dry so that this spring, it should be a good one," Palarski details.
The snowpack will also likely provide ample moisture for upland grasses surrounding those recharged wetlands, and that is where nesting hens will find the spaces they need to lay their eggs and incubate them this spring.  Early grasses provide cover from predators overhead such as hawks, and help camouflage nests from ground raiders such as skunks and foxes. Palarski anticipates a solid early rebound in those cool season grasses and hopes timely rains this spring and summer will help continue the growth of warm season grasses as those ducklings develop and mature.
"They're going to have the moisture that they need this spring. Hopefully we get a bit of a warm streak here coming in May in June and that grass really shoots up giving them that overhead cover. I'm also looking for some timely May and June rains.  We had that last year, but it kind of stalled out there past the fourth of July, we stopped having rains which prohibited the warm season grass growth," he explains, adding, "ducks don't nest in water, they are made in grass, so those ducks come back every spring, form pairs on small little ponds, then the hen goes up and nests in the tall grass.  So, the better the grass cover, the better they do and the higher their success is."
For those looking for signs of spring and the first phalanxes of returning waterfowl into the region, Palarski recommends tracking their movements with the Ducks Unlimited migration map, found online at: ducks.org/migrationmap. There a combination of the organization's field staff, along with avid hunters and conservationists post reports of snow geese moving throughout the country.  Current reports show most flocks of those birds staging up along the Nebraska-South Dakota border where the snowline currently sits.  Palarski expects the majority of snow geese to enter North Dakota on the way to their arctic breeding grounds sometime in mid-April, due to the heavy current snow cover and the cooler forecast for the back half of March.