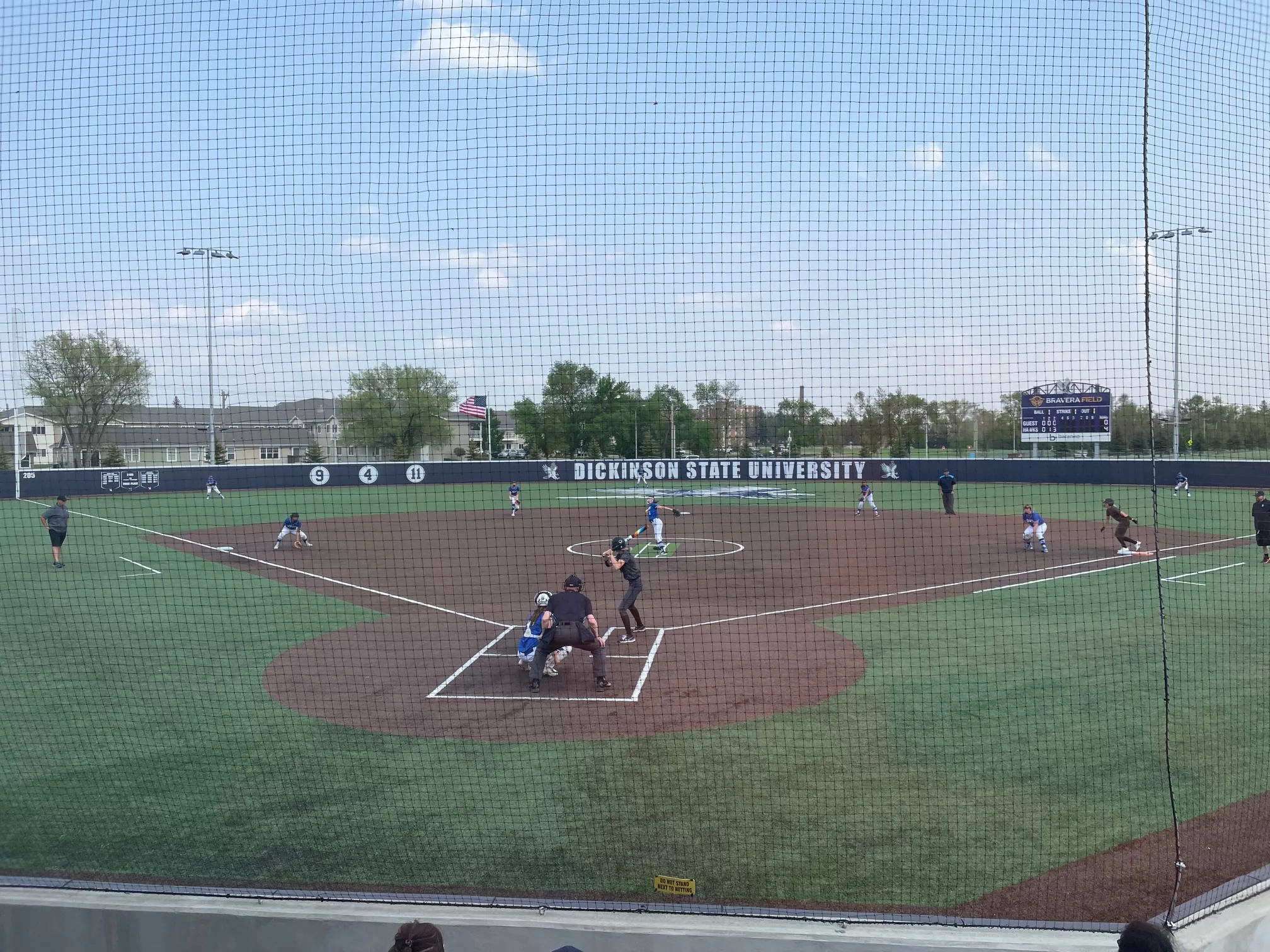 DICKINSON, ND. (NewsDakota.com) – Katie Falk and Makenna Nold tossed a combined no-hitter on Thursday night in the quarterfinals of the West Region Tournament as Jamestown defeated Williston, 5-0.
Jamestown picked up the first run of the game in the second inning as Addison Graves launched her ninth home run of the season, this one out to right center, making it 1-0 Blue Jays after two innings.
The Blue Jays capitalized on a fielding error by Williston in the third inning, scoring three runs off of Nold's fly ball into right field. The ball kicked off the right fielder's glove, clearing the bases for Jamestown and increasing the lead to 4-0.
Nold hit a solo home run in the fifth inning to give Jamestown its final run of the day. The home run for Nold was her team-leading 13th of the season.
In the circle, Katie Falk got the victory, going five innings, striking out two without allowing a hit. Nold picked up the final two innings, striking out five Coyote batters to complete the no-hitter. Leah Trumbauer's diving catch in right-center field in the fifth inning ended up being the shining defensive play to keep the no-hitter intact.
At the plate, Jamestown had four total hits with Nold, Graves, Jada Walter, and Sophia Bond all collecting one hit. Ella Falk walked during her first three plate appearances.
Jamestown (25-8) takes on Dickinson in WDA semifinal game 2 Friday night at 6:00 PM CT in Dickinson. Full coverage can be heard on Jamestown 1071/1400, online at newsdakota.com, or on the Jamestown 107.1 app.
FINAL SCORES FROM DAY ONE: 
MINOT 11, LEGACY 0 (FIVE INNINGS)
CENTURY 8, BISMARCK HIGH 4
JAMESTOWN 5, WILLISTON 0
DICKINSON 5, MANDAN 0
DAY TWO: 
Legacy vs. Bismarck High (12 PM – Loser Out Game)
Williston vs. Mandan (2 PM – Loser Out Game)
Minot vs. Century (4 PM – WDA Semifinal #1)
Jamestown vs. Dickinson (6 PM – WDA Semifinal #2)