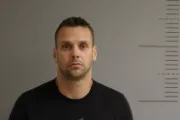 JAMESTOWN, N.D. (NewsDakota.com) – On September 13, 2023, at around 12:02 PM, the Jamestown Police Department received a report of a severe assault at a residence located near the 500 block of 19 St SW in Jamestown. The assault had taken place earlier in the day, and the victim managed to escape from the assailant.
Upon receiving the report, officers promptly responded to the scene and conducted an interview with the victim to gather information about the incident. The victim was able to provide an identification of the assailant. However, the suspect's whereabouts were uncertain, as he had recently been released from the North Dakota Department of Corrections. The victim recounted being struck with a weapon during the assault, resulting in head injuries and also mentioned threats of potential future violence during the altercation.
Further investigation revealed that the suspect had unlawfully entered the victim's residence by gaining access through a balcony door, an act for which he had no authorization, with the clear intent to commit the assault. Officers conducted interviews with individuals connected to the incident and collected evidence related to the crime.
On September 14, 2023, at approximately 12:20 PM, a Jamestown Police Officer located the suspect at a residence in the 500 block of 3 St SE. The suspect was apprehended and taken into custody without any resistance.
The suspect has been identified as Jeremy Lee Blum, 42 years old, who does not maintain a permanent residence but has affiliations with Mandan, ND. Blum was arrested on suspicion of Burglary, Aggravated Assault, and Terrorizing. He has been transported to Stutsman County Corrections, where he will await formal charges.
The investigation into this incident is ongoing, and additional charges may be forthcoming.