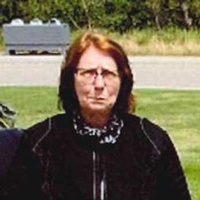 Marcella Schmidt, 61, Jamestown, ND, died Monday evening November 5, 2018 at the Jamestown Regional Medical Center in Jamestown.
Marcella was born July 23, 1957 at Jamestown, ND, the daughter of Jacob and Violet (Otto) Guthmiller. She attended school in Pettibone and later received her GED.
Marcie and Marlow Schmidt were married January 21, 1973 at Jamestown, ND. They lived in Pettibone for a short time and moved to Jamestown where she worked at Rock of Ages as an Activities Director for 30 plus years.
Marcie was a wife, mom, grandma, sister, aunt, and cousin. She was the rock of the family and will be dearly missed.
She greatly enjoyed her flowers, gardening, crafts and caring for her family.
She is survived by her husband of 45 years, Marlow, 2 daughters, Candace (Corey) Murchie; Karla Schmidt; 1 son, Kevin Schmidt, all of Jamestown, ND; 2 grandchildren, Dylan and Hannah Murchie; 1 sister, Leona Braun; 1 brother, Lyle Guthmiller, Jamestown, ND.
She was preceded in death by her parents and 3 brothers.
Visitation Haut Funeral Home – Jamestown
Wednesday, November 07, 2018
4:00 PM – 7:00 PM
1101 5th Ave Northeast
Jamestown, North Dakota 58401
Funeral Service
Haut Funeral Home – Jamestown
Thursday, November 08, 2018
3:00 PM
1101 5th Ave Northeast
Jamestown, North Dakota 58401