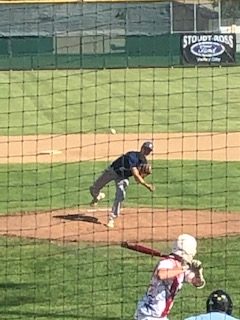 VALLEY CITY, N.D. (NewsDakota.com) – Valley City scored two runs in the bottom of the seventh inning with two out to slip past Kindred 3-2 in the regular season league finale for both teams Thursday night at Charlie Brown Field.
With runners on first and second, pinch hitter John Beutler singled to center field on a hard ground ball. Mitchell Taylor scored from second to tie the game at 2. On the play, Connor May tried for third. Kindred catcher Trenton Duchscherer caught the throw from the outfield and tried to get May at third. But his throw sailed into left field allowing May to come home and score the winning run.
Before the seventh, Kindred starter Nick Eggman and Valley City starter Jacob Johnson were locked in a pitchers duel. Viking starter Eggman held Valley City to four hits and one run over six innings. Only one Post 60 base runner got past third base and that was Avery Bennefeld who scored on Alex Thornton's double in the third after hitting a two-out double himself. After Thornton's double, Eggman retired ten of the next eleven batters, including nine in a row.
Taylor led off the seventh with an infield single to short. Grady Karges sacrificed him to second. Sawyer Rolland came in to strike out Cory Nelson. Connor May walked setting the stage for Beutler's heroics.
Kindred took a 2-0 lead on Rolland's two run single in the top of the third. But Valley City starter Jacob Johnson would slam the door on Kindred after that. Eight of the next nine outs were strikeouts.
Johnson finished with 12 k's in 6 1/3 innings. He allowed five hits and had one walk.
Six different Valley City batters had at least one hit.
With the win, Valley City improves to 12-4 in the East Region and will finish no lower than second. Kindred, who was tied with Valley City coming in, falls to 11-5 and will be no lower than third.
The east region tournament begins next Tuesday in Valley City.