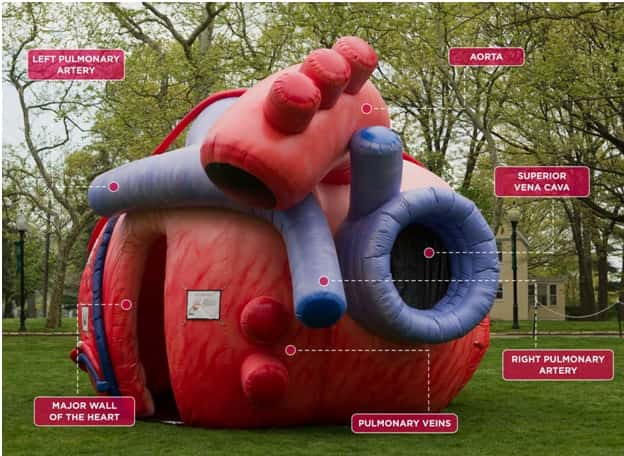 LAMOURE, N.D. (NewsDakota.com) – The MEGA Heart exhibit is hosted to raise awareness about Heart Health, preventing heart related illness and what to do in an emergency.
LaMoure County Public Health Department with the help of Kulm Ambulance Service and Community Volunteer EMS of LaMoure will host a Thriving Hearts Event featuring the MEGA Heart, the world's only inflatable, walk through heart exhibit.
"At the events, you will be able to walk through the inflatable heart, have a free blood pressure check, gather information about heart health, see and practice hands only CPR, learn how to operate an AED and where they are located in the community of Kulm while you walk, run or ride in a fun self-paced community 5K scavenger hunt for AED's."
The MEGA Heart provides visitors with a highly interactive educational experience about America's number one killer: heart disease.
"Visitors can step inside the human heart, learn about cardiovascular functions, observe examples of various types of heart disease, and see displays explaining some of the latest medical treatments for heart problems."
The exhibit will be available in LaMoure at Gazebo Park from 3 PM to 7 PM Friday, August 16th. The exhibit will then travel to Kulm on Saturday, August 17th and be open from 11 AM to 3 PM behind the Old Kulm High School.
For more information, contact LaMoure County Public Health at 701-883-5356.