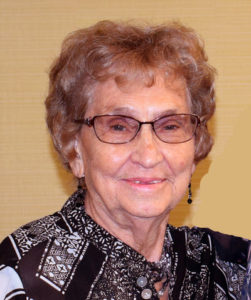 Lillian Skattum passed away on her 97th birthday, November 18th, at her home in Adrian, ND surrounded by her family.
Lillian Esther Skattum (Job) was born on November 18, 1923 to Jacob and Christina (Reuther) Job. The seventh of 15 children, she was raised on a farm near Streeter, ND, and eventually moved with her family to a farm near Nortonville, ND. Lily attended school at Glenmore Township and Nortonville High School. On September 30, 1947, she married Raymond Skattum of Adrian, ND. They moved to Hettinger, ND where Ray worked for the Game and Fish Department. In 1948 they moved back to Adrian where they farmed and operated a dairy. Ray and Lily raised two children on the farm, Judy and Jerel (Skip). Ray passed away in 1980 and Lily continued to live on the farm along with her son and family until she moved to Jamestown in December of 2019.
Lily loved living on the farm and all the hard work it entailed. Gardening, canning, raising chickens, and milking cows kept her busy most of the time. However, she managed to find time for social activities as well, serving as a 4-H leader, member of the Homemaker's Club, and bowling in both ladies and mixed doubles leagues. She was a member of Trinity Lutheran Church in Adrian and enjoyed quilting with all the "quilting ladies" on Monday afternoons. Her hobbies included working hard and feeding anyone and everyone. Lily's pride and joy was always her family. She left a special impression on everyone she met, and will forever be "Granny" to those who knew her.
Lily is survived by her brothers, Walter "Bud" (Betty) Job, Windsor ND, Donald (Carol) Job of Vancouver, WA, daughter Judy Campbell, Bend, OR, son, Jerel (Marsha) Skattum of Adrian, ND, grandsons, Aaron of Walker, MN, and Evan (Lori) of Grand Forks, ND, granddaughter Annie, of Fargo, ND, and great-granddaughters, Andi and Lennon Skattum, Grand Forks, ND. She is preceded in death by her husband Ray, son-in-law Jim Campbell, brothers Louie, Ernest, Elmer, Arthur, Harold, sisters Ida Oberlander, Eva Miller, Katherine Hollingsworth, Elsie Dallmann, Viola Roth, Edna Smith, Betty Ost and many nieces and nephews.
A family memorial service was held November 21st at Williams Funeral Home in Jamestown, ND. The family would like to thank the staff at Eventide Assisted Living, Hospice of the Red River Valley, JRMC and Dr. William McMillan.