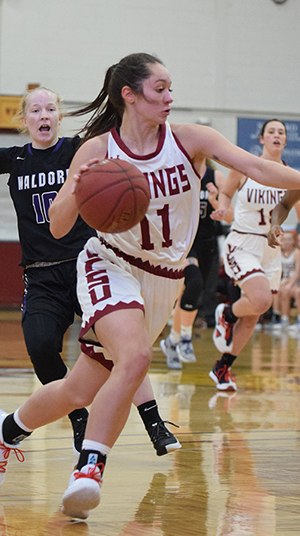 VALLEY CITY, N.D. (vcsuvikings.com) – The Valley City State women's basketball team opened with a big first half and never looked back en route to an 81-49 over Waldorf University Friday night.
Dani Schwanke's 18 first-half points paced the Vikings to a 49-26 lead at halftime. She went a perfect 6-for-6 from the field and 5-for-5 on three-pointers through the first 20 minutes of play, finishing with 22 points off the Viking bench.
Adriana Torres (14), Maara Nelson (12), and Allie Critchley (11) also scored in double figures Friday. Emma Nielsen dished out a team-high six assists, and Taryn Dieterle led the defensive effort with four steals.
Valley City State improves to 3-6 on the season and 2-2 in the North Star Athletic Association. Waldorf falls to 1-9 overall and 2-2 in the NSAA.
The Vikings opened with eight unanswered points over the first four minutes of play that set the tone for the rest of the game. Valley City State took its first double figure lead on a Maara Nelson jumper to end the first quarter, leading 23-13. The Vikings continued to build upon their lead and closed out the game on an 11-0 run to ice the victory at home. The Vikings forced 22 Waldorf turnovers and out rebounded the Warriors 36-28. Valley City State also tallied 17 assists and 13 steals as a team.
"I'm proud of our effort on both ends of the floor tonight. It was crucial to bounce back and make improvements in some areas that we really struggle in." said head coach Vanessa Johnson. "I was pleased to see we took a step forward tonight. Now we just have to carry the momentum into tomorrow."
Valley City State shot 45 percent from the field (29-64), 41 percent from beyond the arc (9-22), and 70 percent on free throws (14-20). Waldorf shot 33 percent from the field (19-57), 22 percent on three-pointers (4-18), and 64 percent on free throws (7-11).
The Warriors were led by Tina Lair-VanMeter with 12 points and Nichole Oberthein who added 10.
UP NEXT: Valley City State hosts Viterbo for a doubleheader on Saturday.  The women are scheduled to tip at 3 p.m. and men will follow at 5 p.m.
Photo Courtesy VCSU Athletics