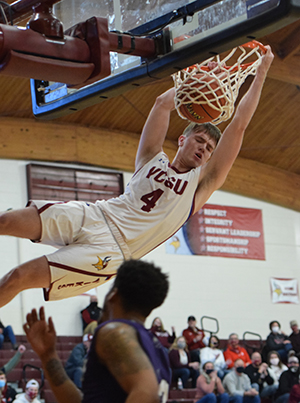 VALLEY CITY, N.D. (vcsuvikings.com) –  Connor Entzi drew four offensive fouls and poured in a game-high 18 points Friday night as the Valley City State men's basketball team defeated Waldorf University, 74-61.
Entzi drew four charges – all in the first half – to fuel a strong Viking defensive performance in the first half. VCSU trailed 11-0 early, but stepped up their defense which in turn fueled the offense. The Vikings forced Waldorf into 18 first-half turnovers and came storming back to take a 36-24 lead at the break.
"Our defense is what carried us through that slow start," said head coach Ryan Montgomery. "We got them sped up, forced them into some turnovers and they went dry for a little bit. Our defense really carried us in the first half."
Valley City State improves to 11-2 overall and 3-1 in conference play. Waldorf drops to 2-10 overall and 1-3 in the North Star Athletic Association.
After trailing 11-0 due to a slow offensive start, the Vikings chipped away and eventually tied the game at 15-15 on Entzi's bucket with 7:29 remaining. Leading 22-20 with 2:55 left in the half, the Vikings closed with a 14-4 run – including the final seven points that included a last-second driving layup by Joshua Kelly.
The Vikings put the game away midway through the second half. Leading 45-35, Valley City State ripped off an 11-0 run – including three straight 3's by Cayden Rickard, Eddie Oyet and Chris Thompson – to build a 21-point lead at 56-35. VCSU led by as many as 24 points before Waldorf chipped away late to make it a 13-point final score.
"We didn't play great tonight, but it shows that this team can win ugly," said Montgomery. "We need to shoot it a little better, but overall we're happy with a W. To have a 24-point lead and not play great shows that we're a very good basketball team."
Entzi scored his 18 points on 7-for-13 shooting. He also added four rebounds. Chris Thompson and Jalen Addison each finished with 13 points. Ten different Vikings scored in the game.
Valley City State shot 44 percent from the field (27-61), 26 percent on 3's (7-27) and 72 percent at the line (13-18). Waldorf finished the game at 44 percent overall (21-48), 24 percent on 3's (4-17) and 79 percent on free throws (15-19).
Quincy Minor Jr. and Kesean Warren each scored 13 points to lead Waldorf.
Up next: Valley City State hosts Viterbo University for a doubleheader Saturday at 3 and 5 p.m. Waldorf University travels to play at Dickinson State on Saturday.
Photo Courtesy VCSU Athletics