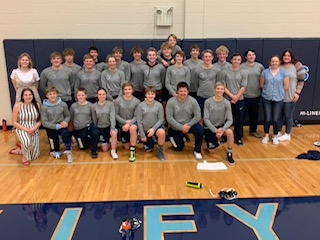 VALLEY CITY, N.D. (NewsDakota.com) – In the last six years, Valley City is 51-5 in Eastern Dakota Conference duals, Saturday they completed another undefeated conference season and a third straight conference title. The Hi-liners beat Fargo North 61-11 in the first match of a triangular with North and West Fargo Sheyenne.
Against North, Koltyn Grebel set the tone for the dual with a pin of Konner Johnson 36 seconds in to the match. After forfeits at 113 and 120 the score was 18-0Hi-Liners.
Augustus Maughan picked up a 5-3 win over Tucker Johnson at 126 to make it 18-3. Ethan Miller came away with a 7-5 win at 132 and Isaiah Schuldheisz had a pin at 138 to make it 27-3.
Chase Hansen and Joshua Worral ppicked up wins at 145 and 152 respectively to make it 27-11 Hi-Liners. Those were the last two wins of the dual for the Spartans.
Three of the last six matches would be forfeits at 160, 182 and 195. Broden Muske got a major decision over William Ward at 170, 11-2. That clinched the dual for Valley City. Carson McGough picked up a fall at 220 in 22 seconds and Devyn Thornton won by fall at 285 in 1:51 for the final margin 61-11.
Valley City and West Fargo Sheyenne met in the second match of the triangular in a non-conference match. Valley City win this one 45-22.
Carter Zink defeated Koltyn Grebel 4-2 at 106 to start the dual. That was the first loss of the season for Koltyn. Koye Grebel got a pin of Morgan Strandberg with 19 seconds left in the third period. Logan Novara defeated Mason Johnson by tech fall, 24-6 at 120 to make it 11-3 Valley City.
Marcus Johnson pinned Tucker Johnson at 126 to cut the Hi-Liner lead to 11-9. Ethan Miller picked up a 6-5 win at 132 to make it 14-9 Valley City.
Sheyenne would take the lead with wins at 138, 145 and 152. The Mustangs received 13 team points in those wins to make it 22-14 Mustangs.
The Hi-Liners would win out from there starting with a fall by Ezra Hanse at 160 to make it 22-20 Mustangs. Broden Muske won by tech fall at 170 to make it 24-22 Hi-Liners. Jonathan Redfearn won 10-7 over Will Post at 182 to extend the lead to 27-22. Jonah Schuldheisz and Carson McGough picked up pins at 195 and 220 respectively.  McGough's pin clinched the dual for the Hi-Liners who led 39-22. Devyn Thornton won by forfeit at 285 for a 45-22 final.
Valley City improves to 13-1 overall and 9-0 in the EDC. Its the third straight EDC title for the Hi-Liners and the fifth in six years. Valley City will travel to Dilworth, Minnesota to take on Dilworth-Glyndon-Felton on Tuesday.