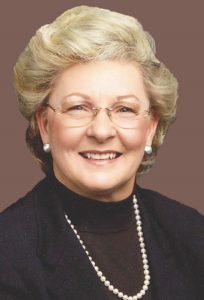 Stephanie Kay (Lill) Cummings lovingly entered into the arms of Jesus on February 20, 2021 at the age of 79. Stephanie was born on February 10, 1942 at St. John's Hospital in Fargo, ND to Stephen and Irene (Theige) Lill. She was the second eldest which included siblings Jonelle, Janice, Kathleen, Patricia and Steven. The family moved to New Rockford, ND where she attended St. James Academy. She was class president and a cheerleader ("Yay Aces!") and would enjoy telling stories of the nuns who taught her and her classmates. She always looked forward to the next reunion!
Stephanie earned her two-year teaching curriculum certificate from Minot State Teacher's College in 1961 and taught in Mandan, ND.  She then earned her Bachelor of Science in Education from Minot State College in 1965. Always full of energy and furthering her teaching experience, she sought adventure in California along with her sister Kathy and friend Noel. While there, she learned how to drive a vehicle and she also attended what later became known as Super Bowl 1.
She was united in marriage to Dr. Neil Dage Cummings in West Covina, California on her birthday in 1968. Neil and Stephanie made their home in Valley City, ND where Neil was an optometrist. Stephanie became the proud mother to Scott Dage in 1969 and Alicia Ann in 1970. She delighted in motherhood but quickly became involved in the community through various organizations such as the VC Fine Arts Club, Republican Party, AAUW, and the Boy and Girl Scouts where she led troops.
She also supported Neil's profession, devoting many hours with the Auxiliary to the ND Optometric Association. She held the office of President, and served on other committees, educated schools and groups, and promoted healthy vision. Stephanie later learned and managed Neil's optometric finances as well as assisted in many areas of the profession, and they volunteered for VOSH to bring sight to those in need.
Stephanie could often be heard saying that her first priority was the Lord, and this is where her treasure was and what she put her heart into. This evidenced itself in her many years of teaching Sunday School and VBS, Circle, Bible Study, serving group, confirmation mentor, church bazaar and other committees, as well as serving wherever she could assist with at Epworth United Methodist Church. She earned the distinction of "Jewel of a Woman" for all her efforts although she enjoyed recognizing others instead of herself.
She lovingly assisted her mother and mother-in-law in their later years. Her servant's heart continued in helping anyone whenever she saw a need. Her gift of hospitality extended far and wide. She also regularly delivered Meals on Wheels, served on the Barnes County Library Board, and her condo association board. She became blessed with the title "Grandma" and like everything else, she excelled in caring for the "Grands." She also worked at Jefferson Elementary School as a lunchtime assistant.
Stephanie loved to be where the excitement was. She enjoyed parades, volunteering, baking, always "making a memory" for and with her family, creating special gifts and pictures and treasures, going on long car rides, visiting with others on the phone and in person, playing Santa Claus to her family and friends, and serving up a delicious meal with her best china. She always gave of herself and did everything to the best of her ability to praise God.
When her health changed, she lived with Alicia and family before becoming an Edgewood Community resident where she received wonderful care.
Her beautiful, classy life and Christian influence will be forever cherished by her family, friends, and the numerous lives she touched who will carry on her legacy. We anticipate her joy of being reunited with her parents and her beloved Neil, as well as other loved ones. Stephanie is survived by her children: Scott (Sheila) Cummings, Valley City and their children: Gabrielle (Riley) Wavra, Oakwood, ND; Meredith, Grand Forks; and Joseph, Valley City; Alicia (Chad) Rexin, West Fargo, and their children, Andrew, Lilia and Gabriel; as well her precious siblings and special extended family and dear friends.
Stephanie loved the Lord and would always encourage all to:"… seek first the kingdom of God & His righteousness, and all these things shall be added to you." Matthew 6:33
Visitation will be on Saturday, February 27th, from 5:00-7:00 pm at Epworth United Methodist Church (680 8th Ave SW in Valley City). Her memorial service will be held at the church on Sunday, February 28th at 2:00 pm with visitation one hour prior to the service. Masks would be appreciated. Everyone is welcome to attend, but it also will be live streamed on https://vimeo.com/515509812 which can be found through the Oliver-Nathan Funeral Chapel website. Stephanie's final resting place will be at Hillside Cemetery in Valley City. Memorials may be directed to Epworth United Methodist Church – Christian Education or United Methodist Women or Barnes County Public Library.
Funeral arrangements have been entrusted to the care of Oliver-Nathan Funeral Chapel.  An online guestbook is available at olivernathanchapel.com