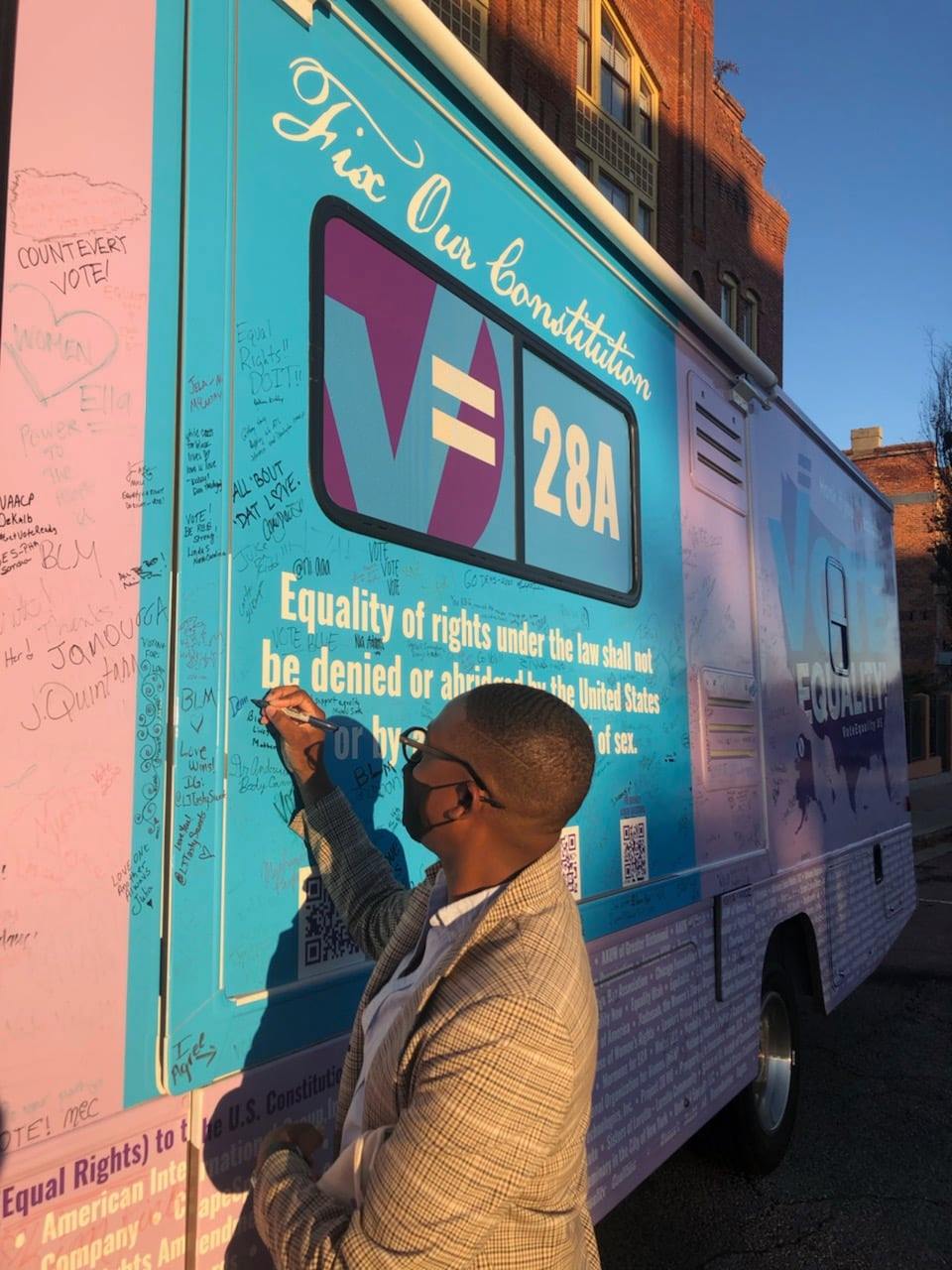 Photo: VoteEqualityUS
JAMESTOWN, N.D. (NewsDakota.com) – Gender equality advocates from VoteEqualityUS have been traversing the Midwest with "The Notorious RVG (Ruthless Vote Getter) branded RV to collect signatures and raise awareness about equal rights, specifically voting.
The organization has been advocating for equal representation in all 50 states with the hope one day that the Equal Rights Amendment will make its way into the U.S. Constitution.
Barb Lang is a local advocate for the Equal Rights Amendment.
With the renewed fight for equality in North Dakota, Lang says the North Dakota Women's Network has teamed up with VoteEqualityUS to bring the eye-catching RV to the state to raise awareness and collect signatures in support of the cause.
"We have an historic opportunity to fix our Constitution so that 'justice for all' means all of us," stats Kati Gunkelman Hornung, Co-Founder and Director of VoteEqualityUS. "We're doing everything we can to make sure the message of gender equality is heard loud and clear. "Gender equality is not in the U.S. Constitution, but the 28th Amendment will fix that."
Lang added they'll have the RV available in Jamestown on August 27th from 11 AM to 1 PM near the parking lot of Hugo's Family Marketplace for people to see, sign, and learn more about their mission.
The RV also has a planned stop in Bismarck today (August 26th), Valley City August 27th following the Jamestown stop, Grand Forks on August 28th, and Fargo on August 29th to finish it's North Dakota tour.
Lang says everyone is encouraged to stop by and learn more, but more importantly, sign their names to show support.
For more information, visit voteequality.us.
Listen to a full Let's Talk About It with Barb Lang below: