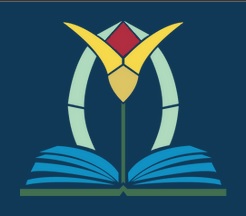 The newly unveiled James River Valley Library System (JRVLS) logo
JAMESTOWN, N.D. (NewsDakota.com) – The James River Valley Library System (JRVLS) has unveiled their newly redesigned and repurposed website.
JRVLS Library Director Joe Rector says the new website helps them with interfacing effectively with people in the community.
Rector says visitors online will now see a way to register for classes through the calendar, view items available from the Library of Things, an "Ask a Librarian" feature, and the ability to subscribe to their newsletter. The site has also been optimized for cellphones.
He added their new logo also features something that can be found in the Alfred Dickey Library stained glass windows.
Rector says in the Stutsman County Library, they continue to grow and expand the Library of Things.
He added the Library of Things has many puzzles and games to check out of the library, but they are looking to add more kitchen implements, craft items, tools, and fitness items that can also be checked out.
Another item they library system continues to work on is the Little Free Libraries that will be placed strategically throughout Stutsman County. Rector says he hopes this will expand the access to literacy in the area.
The Little Free Libraries will be installed in Pingree Park, near the Cleveland Community Center, near the Post Office in Ypsilanti, and bookshelves inside the Woodworth Café & Kensal Café.
These installations will be served monthly by the bookmobile to keep the selection fresh. Rector added the little libraries are also due in part to a donation made by former Senator Heidi Heitkamp and her husband Dr. Darwin Lange.
You're encouraged to reach out to the JRVLS if you have questions by calling Alfred Dickey Library at 701-252-2990, Stutsman County Library at 701-252-1531 or by visiting jrvls.org.
Listen to a full Let's Talk About It with Joe Rector below: