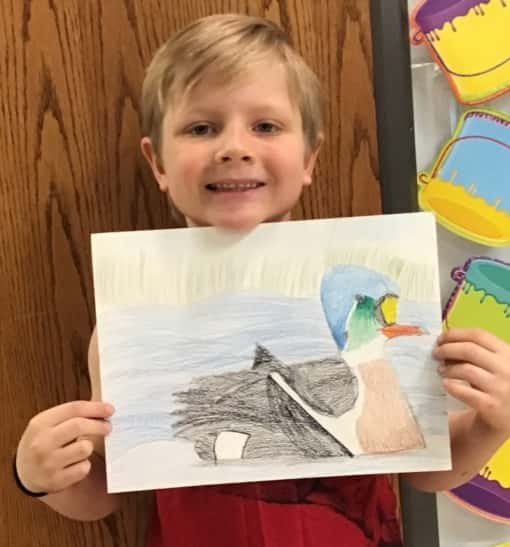 VALLEY CITY, N.D. (NewsDakota.com) – It's been a very exciting year for Valley City's Elementary Art Students. In January, the local Eagles Aerie 2192 held a poster contest for grades 3-6, each student was asked to make a poster of "Their Favorite Thing". There were three winners for each grade level, of the twelve place winners, 11 were from Valley City Public Schools. All posters were then sent to Nationals for judging. Valley City Fourth Grader, Jace Larson, won second place in his grade level and received $100.00 along with a letter of commendation stating there were hundreds of entries and that his was one of the best. Watch for an article from the local Eagles Club announcing all the winners along with photos!
A second grader, Zack Anderson, loves art so much that he wanted to participate in the North Dakota Junior Duck Stamp contest. With support from his art teacher, Cheri Anderson, Zack submitted his first entry into the Duck Stamp Contest and won Honorable Mention! Zack will receive a certificate along with a ribbon and his artwork will be on tour across the state of North Dakota. It was recently on display at the Barnes County Museum along with the other winners.
The Governor's Student Art Show recently wrapped up at the Taube Museum in Minot. Valley City had 8 winning elementary art students! This is the highest number of winning elementary art students in the history of VCPS Elementary participating in the Governor's Student Art Show. In the 2016-2017 school year there were 7 winners, that was Mrs. Anderson's first year teaching at Valley City Public Schools.
First Grader, Karter Blueshield, won the most prestigious award for elementary students with a watercolor resist painting of a cow. The award he won was the Congressional Art Award. His work will be professionally matted and framed and will hang in the Bismarck office of Rep. Kelly Armstrong.
Fourth Grader, Addison Loehr, was the only elementary student in the state of North Dakota to receive the Spotlight Award. This award is given to an outstanding digital work of art. Students at Washington received iPads this year and the students love drawing on them. Addison's artwork is of a puppy wearing glasses. Her art will tour the state when it leaves the Taube Museum.
We have six other Traveling Award Winners in the elementary. These traveling works will tour the state of ND for a year and then will return to Valley City where they will be on display at Mercy Hospital Gallery for the summer of 2020 then they will be on display at Valley City Public Schools Administration building from September until the end of November of that year. The six Traveling Award Winners are:
First Grader, Noah DeCouteau, won with a paper mosaic of a book character titled, "The Little White Owl".
Second Grader, Halle Welken, won with her "God Bless America" colored pencil drawing of an Eagle.
Third Grader, Addison Gerhardt, painted, as well as textured, a "Rainbow Color Wheel" to receive her winning spot.
Third Grader, Mason Dahl, received the award for his colored pencil drawing of "The Mayflower".
Fourth Graders, Layni Bakalar and Brianna Walker, were inspired by pop artist, Burton Morris, to create their winning digital works of art on their iPads. Layni's work was titled, "Donut"; while Brianna's was a drawing of an "Elmer's Glue "bottle.
The other elementary works that were entered into the Governor's Show will be on display this summer at Mercy Hospital along with winners from 2018 and then will be displayed at VCPS Administration building in the fall.
All of these young amazing artists are invited to a celebration of their talents at the May 15, 2019 Valley City Public School Board meeting at 5 pm.
Cheri Anderson, with 39 years of Art Education, is the art instructor for both Jefferson and Washington Elementary Schools.
Plus Most of the works pictured are copies of the original so they appear smaller than they are. All Valley City Public Schools student artwork may be viewed online at Artsonia, which is the World's Largest Student Art Gallery. To view their work, go to www.artsonia.com and type Valley City, ND into the search window, all four schools will appear.
Story and photos submitted to NewsDakota.com by Cheri Anderson.

Valley City Elementary Art Students