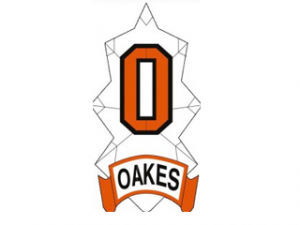 OAKES, N.D. (NewsDakota.com) – With about a week of practice under their belt, the Oakes Girls Basketball team captured an onpening night victory over South Border (0-1) 55-41.
Oakes scored just five points in the opening quarter with no made field goals. It was a slow start but nothing that Head Coach Brennan Hack didn't expect.
South Border took advantage of some early mistakes and turnovers from the Tornadoes but struggled to shoot the ball for most of the game. The Oakes offense, on the other hand, settled down after being outscored 10-2 to begin the ball game. Oakes went on a 23-6 run to close the first half and took a 25-16 lead into the break.
Coming out of the break, it was business as usual. The team looked more comfortable and slowly added onto their lead and eventually won 55-41. Nicole Schmitz and Sadie Hansen were Oakes' leading scorers with 13 points each and Jaida Seyer added nine points. Though Claire Wagner didn't score, she facilitated the offense and turned in a solid performance after a slow start.
South Border's leading scorer was Faith Dockter with a game high 16 points.
Oakes returns to action Thursday at Enderlin (0-0) at 7:00.