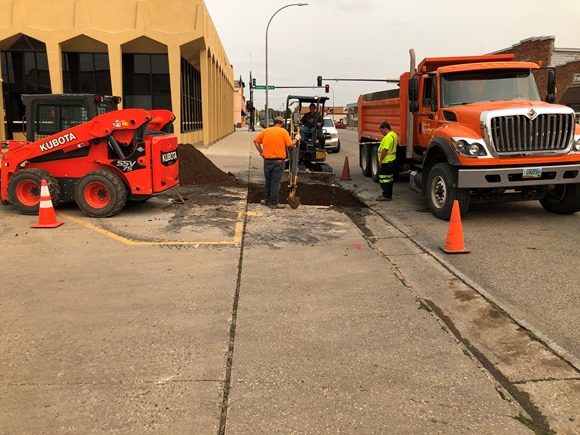 VALLEY CITY, N.D. (NewsDakota.com) – The water boil order for Valley City was lifted on Thursday, September 17th.
On Tuesday, September 15th a precautionary boil water was issued due to a drop in water pressure after five water main breaks in Valley City.
City Administrator Gwen Crawford said after sampling and testing the water from multiple areas throughout the city, no contamination was found. The boil water advisory was cancelled about 3:30pm on Thursday in Valley City.
The following is a news release by City Administrator Gwen Crawford.
"There was a planned shut down for the 5th Ave Construction for replacement of an old pipe and valve for our Main Feeder to the North Water Towers and ground storage tank.
One of the High-Pressure Pumps turned on dumping high pressure into our Zone 1 which is about 85% of the town causing over pressure on pipes and exposing weaknesses in the old cast iron pipes. Anything that was PVC pipe held up.
An example is the pipe on 3rd Street in front of the Post Office had a baseball size hole. It's a cast iron pipe that was put in in 1921 and is scheduled to be replaced in 2023.
The important thing to know is that our Public Works was on top of things and as soon as any break was discovered the break was isolated therefore assuring no contamination.
Required testing was done by the State confirming that there was no chemical or bacterial contamination and that everything was safe.
The Public Works and Water Plant staff need to be commended on their hard work and to see them in action and work as a Team over the different departments is something to see."
5 main breaks.
4th Ave 4th St NE
3rd Street NE (next to Post Office)
2nd Street NW (West side of Wells Fargo)
700 block of 3rd Street NW
8th Ave near Petro Serve USA
City Administrator Gwen Crawford explained what happend.
Water Treatment Plant Supervisor Wade Hesch said he shut the water pump off within seconds after he notice a problem
Crawford said Hesch drove to Bismarck to get the test results back as quickly as possible.
Gwen Crawford
City Administrator
PO Box 390, Valley City, ND 58072
Office Phone # 701-845-8120